Because there is so much to report, I'm splitting this into two posts. Here's the first 3 days of my trip.
Ok, so I got back from my trip on Sunday, but I'm still recovering. I'm exhausted~. But I need to recap before I forget everything, so here we go!
DAY ONE
Day One starts epically early. So early, that I just don't go to bed the night before and I leave my apartment while the sun is still rising. This is even more impressing when you consider the fact that the sun rises at
4:30 am
in Japan. But yes, I left around then to catch my first train at 5:32. There were a surprising number of people out and about, mostly middle aged joggers, but still. That's really early, man. Get some sleep.
The rest of the daylight hours were spent on trains. I rode a grand total of 7 different trains, and arrived at my final destination at about 7:30 at night. That's a lot of traveling. Most of it went fairly smoothly, except for just after stupid Morioka, where a private company owns the railways for about 6 stops, and I had to buy a separate ticket. Thank all that is good for the window operator who helped me figure out what I needed to do. I have a special pass that grant unlimited local train rides for five days, but that was of course useless on the private rails. Instead, I had to pay for those 6 stops, and then it switched back over to JR. I don't know. I didn't have to switch trains or anything.
Also, Northern Japan is pretty at first, but... there is NOTHING there. For about three hours, I was on a two-car, one conductor train that would stop at the TINIEST stops. Stops that were a platform, and a cluster of like 10 houses, maybe. Out in the middle of nowhere. I don't know how those people don't go insane.
Anyway, I get to my final destination for the day, Hirosaki. I manage to find my hotel fairly quickly, because it is RIGHT in front of the station, which was really nice. I check in and then leave in search of food. But I notice how empty the streets are, which is odd for a city of that size when it wasn't even very late. So I do a little more exploring, and hear some drums and BAM find the Hirosaki Nebuta Parade.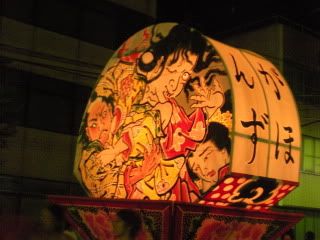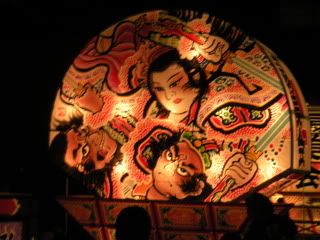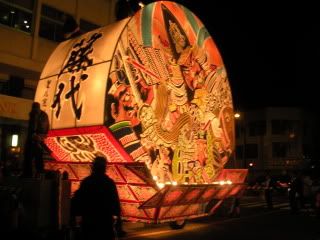 I think I must have been at the very end or very beginning of the route, because there weren't very many spectators. But it was very cool to watch and surprisingly casual. People would leave the parade to talk to someone they know, or someone on the sidelines would run in to take a picture with a friend. In fact, some guy ran up to me to say hi and ask where I was from. He'd apparently gone to DC to work for a few years. He thanked me for coming and told me to enjoy the culture.
I watched for a couple of hours, actually, until it ended around 10:30. Then I remember how I was hungry and grabbed some food at a conbini and went to bed.

DAY TWO
Day Two didn't have near as much traveling to do, just a 45 minute trip to Aomori, so I had a lot of time to kill. In the morning, I decided to check out Hirosaki Castle. It was maybe a 20 minute walk from my hotel, and pretty easy to find.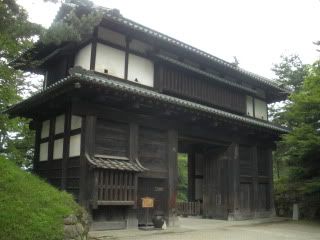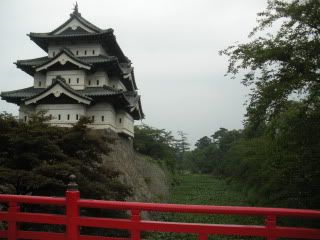 It was pretty cool, but nothing terribly exciting. However, I did run into another foreigner while there. She was from Canada, and was living in Kyoto, but was touring the festivals like me. She had a really strong accent, so that was fun talking to her.
After that, I went back to the hotel and decided to head over to Aomori early. The parade wasn't until after dark, but I figured I'd be able to kill some time wandering the city.
Aomori was
much
bigger and busier than Hirosaki. And there were tons of people dressed up in yukata, which was really fun to see. But the coolest part was when I found where the floats are kept during the day.
I wandered in the direction of the ports, because those are usually pretty interesting, and what do you know, huge tents with floats in side! So I took a bunch of pictures, and I'm glad I did, because I got much better ones than if I'd tried to take them at night, and my battery ended up dying early in the night.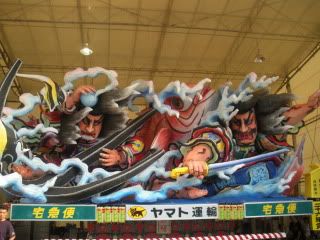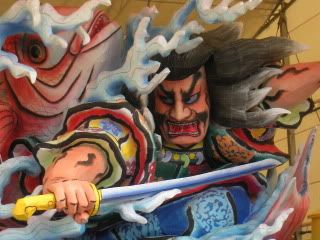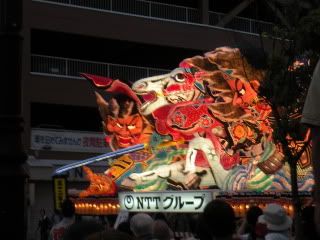 I also got to watch as one float got damaged and repaired. Two smaller ones kind of collided when they were being moved, but there was a guy who just tore away the ripped part, covered it back up with the rice paper, and bam, good as new. Luckily it was all white.
Then I went back to the main streets where there were shops and places to eat, and grabbed some food at a McDonald's. I ate outside and was actually joined by more foreigners - only French ones this time. And only one of which actually spoke English well. So that was an interesting experience there, too. They were with a Japanese later and were actually part of the parade, which was kind of cool.
It was starting to get kind of late, so I decided to hunt down a spot to watch from. It was easy to find where the parade route was, because there was chairs set out for the tour groups who had paid in advance, and also families had little blankets claiming their territory. I managed to find a little ledge that I could sit on and still have a good view.
The parade itself was also much bigger than Hirosaki, and I could easily see why this was one of the most famous festivals in all of Japan. It made me think of the Macy's Thanksgiving Parade what with the huge floats and all the people and everything. It was incredible. Unfortunately, as I mentioned already, my battery died pretty early on, so I didn't really get many good pictures. But you can get an idea from this video:
After the parade, it was back to my hotel in Hirosaki and lights out for me.

DAY THREE
Day Three was a half travel day. I had to check out of my hotel around 10, but my train didn't leave until 11:17, so I bummed around the station for a bit. Which actually worked out in my favor, because there was a shamisen group and drumming group performing there. I watched them for awhile, then caught my trains. I had three on the way to Akita, and arrived at my destination around 2pm, so it wasn't too bad.
The first thing I had to do in Akita was get a locker. My hotel for the night was actually another hour train ride away, so I needed somewhere to keep my stuff until then. Of couse said lockers only took 100 yen coins, so first I needed some change. I bought a postcard off one of the stalls in the station and luckily managed to snag the last locker, but I accidently locked my camera in! Of course I was again out of change after that, and had to go buy some Aquarius (think Gatorade) at the nearest conbini and unlock the locker, take out my camera, and relock it. So I basically paid twice what it was worth.
But once my items were secured, I was free to wander. Akita was a little bit smaller, but I stuck to my method of following large groups of people or people in yukata and found a park where there was a competition for the lantern balancers that would be in the parade later.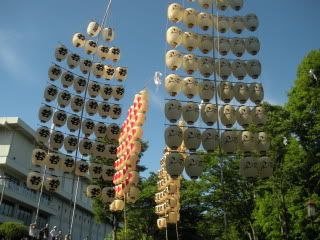 Basically, these guys were incredible.
I watched them until the competition was over, then it was back to wandering for me. It was really hot out, so I tried to stay inside department stores as much as possible. It was a good way to kill time.
Then it was time for the parade. The route was a little bit further from the station, but again, easy to find after following the crowd. I found a spot that wasn't too crowded, but I was still towards the back, leaning against a building when a police officer came up to me. He said they were blocking off the roads now, and since it wasn't dangerous anymore, I could sit in the street. At first, I was confused, because my ears only heard the word 'dangerous' and I thought I was somewhere I wasn't supposed to be. But then he said it again and I ended up on the front row, right in the street. It was great.
Then a lady sat next to me, who was very talkative and really impressed with my Japanese. She ended up buying me one of the guidebooks, which had some cool pictures in it.
Before the parade, there were a ton of girls and women in yukata that danced in the streets.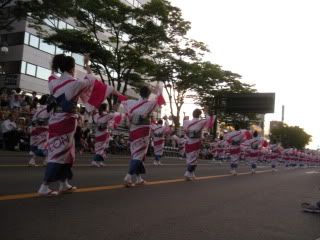 After that, the men and boys paraded around with the lanterns, while followed by floats with taiko drums on them. Then, once the whole route was covered, everyone stopped and began balancing the lanterns.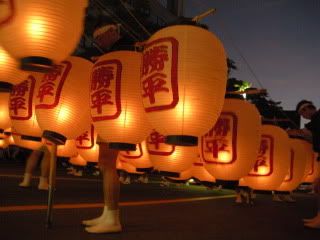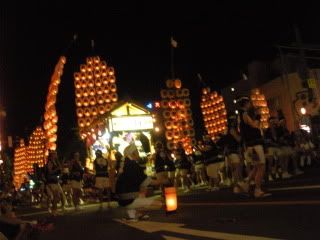 They rotated three times, and then invited the crowd to try out the drums or take pictures with the guys. I decided to go ahead and go back to the station instead, but along the way actually ran into another ALT from where I live! He was with a friend of his, and we chatted for a bit. He was also going up to Aomori, so I gave him some tips on where to go and whatnot. It was weird running into him, though. Small world.
Anyway, It was a little over an hour ride to Yokote, which housed my next hotel. Once I got the the station, I was so tired and out of it, that I didn't even really bother trying to find my hotel on my own. Instead, I opted for a taxi, which turned out to be expensive, but worth it. This hotel was a little bit further away, and on the opposite side of the tracks, so it was a little hard to get to.
And that is the first half of my trip.